Four VERY important events are coming up! In order of appearance:
You're playing along right? If you're reading this on Monday morning, here is the style prompt:
striped top + printed bottom.
This doesn't necessarily mean a horizontal striped top - get creative!! I can't wait to see what you come up with!
Last week's #MondayStylePrompt
was a lot of fun... makes Monday morning... tolerable!
2. BT Edmonton!!!!!
Friday September 19th
in the early morn... VV Boutique Style will be on
Breakfast Television
again! It's been far too long since I've been on TV (!) and this time, I'm bringing four
real life real style
models to showcase thrifted Fall fashion and talk about No. 4! I can't wait! Tune in to see who is wearing the cheapest outfit and get a peek at the awesome pieces you can find thrifting!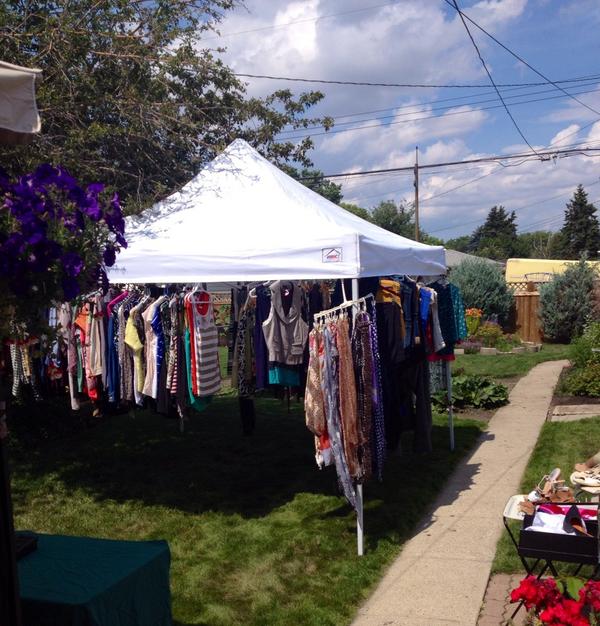 We are celebrating the Autumnal Equinox one day early and hosting another fabulous Backyard Boutique on
Sunday September 21st from 11:30am to 4:30pm
. We had so much fun at the
Summer Backyard Boutique
(wine was had, fab clothing went to new homes)
that we
had
to have another focusing on Fall finds! We have been thrifting up a storm and will have all available
Sister Thrifters Instagram stock
PLUS many never-before-posted pieces! We will have sizes ranging from 0 to 22 - all pieces that we would gladly welcome into our own closets! I'm very excited to collaborate with a special friend to bring you...
Hundreds of garments in Sz small 0 - 6 including exceptional brands like BCBG, Lululemon, TNA and Wilfred from Aritzia, J Crew, Banana Republic, Rock & Republic, True Religion and so much more!
Some lucky small ladies are going to clean up!
4. Fashion's Night Out!!!!!
It's that time of year again! The third annual
Fashion's Night Out - VV Boutique Styled
is coming up on
Tuesday September 23rd
! Mark your calendars and plan to join me to
shop from 6-9pm at the 34th Avenue Value Village location
in honour of the
international Fashion's Night Out
. The objective of this fun event is to put the joy back in shopping! Well, I don't know about you, but the better the price and quality, the better the joy! We had a blast on
FNO 2012
and
FNO 2013
and this year will be even better! I will have prizes, as usual, and Value Village has generously provided gift certificate prizes too!
We will meet up at Chili's after to review the spoils of the hunt, determine the lowest cost per piece and award the grand prize winner! Whether you've never thrifted before or are a die-hard thrifting enthusiast, Fashion's Night Out will be a fun evening out! Hope to see you there!